If you were waiting for a sign, we are giving it to you!
Do you know which Chinese zodiac belongs to you? Come to our front-desk and find out!
Every month we provide our new students with a small gesture, often resembling Chinese heritage. This month we hand out small statues of Chinese zodiac animals for every person who comes to inform about our current offers on language courses. This goes for new students as well as for current students who are looking to take the next step.
The Chinese zodiac consists of twelve animals. The set of animals represents a twelve- year cycle and the twelve hours of the day in the lunar calendar. Around the years 386 – 589 small statues of these animals wearing official robes became popular tomb offerings. Presumably this was because they were viewed as symbol of renewal and regeneration.
In China people still place value in their zodiac and let it guide them through their life. With this being said, we'd like to welcome you to our office so you can receive your own guiding zodiac. Also you will have the opportunity to score your own discount when you book a new course.
For more information, please contact us by phone or e-mail.
0532-85890993/88078385
study@xmandarinchinese.com
---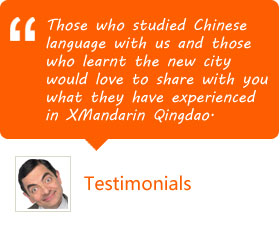 FAQ
Contact us
Shinan Campus: Floor 20th, Building A, Central international (zhonghuan) Plaza, No. 19 zhangzhou Er Lu, (Bank of China's uptairs), Qingdao
P: (86)532-88078385/85890993
EP: 13589278775
Skype:
Call me!
Email:
study@xmandarinchinese.com