[Y]our Campus
This neighborhood goes by many names: Taigu Square, "Yuanyang Guangchang" (远洋广场,a central bus stop across from Jusco shopping center), Hong Kong Gardens(香港花园, two blocks to the east), and Coffee Street, but the people who live here know it to be the international heart of the city. Amazing food, entertainment, and relaxation options just a short walk away.
Welcome to the Central International Plaza, a 29 story blue building in a neighborhood of skyscrapers. Down 16 floors below the classrooms, enter Qingdao's international heart. Within a 5 minute walk you can find Book City, 2 shopping malls, a dance studio, bakeries,hair salons, Qingdao's famous Coffee and Tea Culture Street, and about a dozen western restaurants, not to mention excellent Korean and Japanese food. Within a 15 minute walk, some of Qingdao's most popular bars and clubs, the ocean (and lovely Marina City), and two movie theaters. Easy access by bus and taxi (and soon, the long awaited subway),[Y]Our Campus is the best place to study (and play, too).
Qingdao New Global School, XMandarin Cheng Yang Centre is located in the international heart of Cheng Yang district. We provides a wide variety of courses for international students who are going to learn Mandarin Chinese during their Cheng Yang district residence. Our Mandarin programs are offered all year round and customized to meet each student's needs. Learn Chinese in Cheng Yang centre. With the right Chinese course, you will discover the value of Learning Mandarin. Contact our school at 0532-88078385/study@xmandarinchinese.com, and improve your Mandarin skills.
Back to About us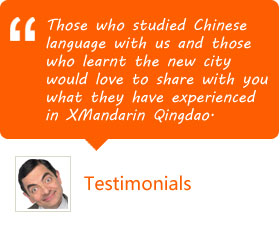 FAQ
Contact us
Shinan Campus: Floor 20th, Building A, Central international (zhonghuan) Plaza, No. 19 zhangzhou Er Lu, (Bank of China's uptairs), Qingdao
P: (86)532-88078385/85890993
EP: 13589278775
Skype:
Call me!
Email:
study@xmandarinchinese.com