September Giveway
Tired of losing 1RMB coins? This month at XMandarin we are giving away traditional Chinese embroidered purses. Traditional Chinese coin purses have been a common fashion trend in China, and has even spread over to Europe and the Americas. These style purse are covered with flowers with traditional Chinese colors. This would be an awesome souvenir to take home to your country and show-off your Chinese apparel! It would also be great to start keeping your coins in to use for the bus! But most importantly, you will definitely be ahead of the fashion trend with these purses, no matter where you are in the world!
Swing by the front desk to get your free purse and receive more information about our current offers and classes. Also, for those who book a course this month will receive a special promotional discount! This isn't any ordinary discount either, we have big discounts coming this month so come take advantage, and learn more about upcoming classes, courses and oh….get a free purse too.
For more information, contact us by email or phone.
0532-85890993/88078385
study@xmandarinchinese.com
---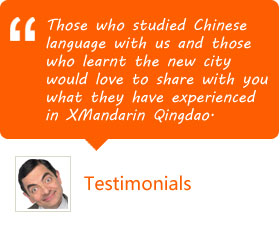 FAQ
Contact us
Shinan Campus: Floor 20th, Building A, Central international (zhonghuan) Plaza, No. 19 zhangzhou Er Lu, (Bank of China's uptairs), Qingdao
P: (86)532-88078385/85890993
EP: 13589278775
Skype:
Call me!
Email:
study@xmandarinchinese.com