Intensive Courses
Intensive (or immersive) courses are the fastest, cheapest and most powerful way to quickly and deeply learn a Chinese language with XMandarin in Qingdao.
Intensive One to One Private Course
Choose to study 1-on-1 with one or more Chinese teachers, to meet everyday from Monday to Friday accordingly arranged in the daytime, will allow you to grasp conversational mandarin Chinese and recognize simple Chinese characters effectively, it makes your Mandarin studies rapid progress but in low-stress.
Program Structure
You have the option of combining/taking classes from of any of our courses eg.spoken chinese, HSK Preparation, Chinese for Business etc.
50 Minutes per lesson

Meet everyday from Monday to Friday

≥15 teaching hours per week either in the morning or afternoon

Focus on practical Chinese

Guarantee of high teaching and service quality
Back to Courses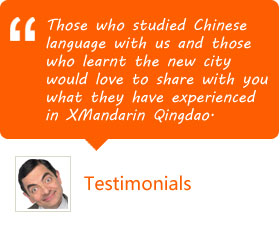 FAQ
Contact us
Shinan Campus: Floor 20th, Building A, Central international (zhonghuan) Plaza, No. 19 zhangzhou Er Lu, (Bank of China's uptairs), Qingdao
P: (86)532-88078385/85890993
EP: 13589278775
Skype:
Call me!
Email:
study@xmandarinchinese.com