Certificate
Everyone completing one of our programs will receive a certificate of your demonstrated ability in Chinese proficiency( see sample below). Students will also have the ability to study for and take the HSK examination. The HSK is China's official Chinese language proficiency examination of non-native speakers; therefore the results (certification) are internationally recognized.
XMandarin CLC's Certificate Sample
HSK Certificate Sample
Back to Courses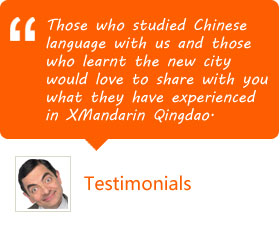 FAQ
Contact us
Shinan Campus: Floor 20th, Building A, Central international (zhonghuan) Plaza, No. 19 zhangzhou Er Lu, (Bank of China's uptairs), Qingdao
P: (86)532-88078385/85890993
EP: 13589278775
Skype:
Call me!
Email:
study@xmandarinchinese.com