Corporate Training Courses
The program is designed on a company by company basis with lessons offered at your office, your home or the campuses. We can offer a flexible timetable, as we try to work within your busy schedules, and Class times can also be changed upon request.
We will keep in touch with the corporation's HR department, and we will send your study plan and evaluation report from your teacher, in order to let you know and command our client's study situation. Make more communication and understanding between you and your staff. Every month we will collect the learning process for all the student and report to relation department. You will get our Certification upon request when you completed your learning.
As the mandarin training experts, we have a set of specialized training system and courses, and a team specialized in corporation training, to satisfied the growing training demands from mass companies at home and abroad. XMandarin design special training method in corporate training, tailor made program for our corporation and satisfying the growing needs of clients. The professional teaching methodology bring the high quality. Various culture activities can be held in our center or in your corporation, which are good for the students to enhance their understanding of Chinese culture and totally free. Up to now, we've worked with Embassy of British and Japan, MAERSK, ITOCHU, Samsung Group and more.
Our Clients
Corporation Training Flow Chart
Back to Courses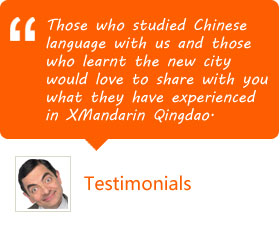 FAQ
Contact us
Shinan Campus: Floor 20th, Building A, Central international (zhonghuan) Plaza, No. 19 zhangzhou Er Lu, (Bank of China's uptairs), Qingdao
P: (86)532-88078385/85890993
EP: 13589278775
Skype:
Call me!
Email:
study@xmandarinchinese.com