Questions
Coming to study in China is not such a trival matter. Here are some answers to the questions of a study tour in China. If you have a question that isn't addressed here or elsewhere on our website, please contact us by online chat or mandarin@tianyanedu.com.
Back to FAQ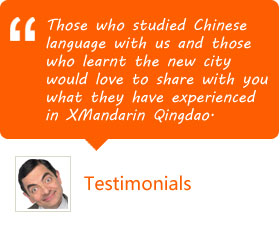 FAQ
Contact us
Shinan Campus: Floor 20th, Building A, Central international (zhonghuan) Plaza, No. 19 zhangzhou Er Lu, (Bank of China's uptairs), Qingdao
P: (86)532-88078385/85890993
EP: 13589278775
Skype:
Call me!
Email:
study@xmandarinchinese.com