Part-time Courses


One to One Private Courses
Combines study methods of high effectiveness and tailored course, which adopt well targeted and effective teaching methods to reach academic demand. XMandarin's professional teacher focus on your actual needs and study interests, and you can arrange a weekly timetable from 4 to 20 lessons at your convenience.
Program Structure
Flexible schedule (minimum 4 class hrs/week) and teaching location
Tailor-made study content - Move at students' own speed
Focus on students' individual requirements
Guarantee of high teaching and service quality

Courses with China Visa
Students enrolled in this course can apply for the X2 visa and stay and study in China legally.



Small Group Courses

It is a good balance of study and daily life. It's 2 lessons a day; 3 days a week give students spare time to self-study and work on personal business. The course mainly focuses on practical Chinese speaking and listening, teaches phonetics and basic Chinese characters.
Program Structure
Started when more than 4 persons registered or group reservation
50 Minutes per lesson
3-9 students per class
2/3 lessons per day and 2/3 times per week from Monday to Fridy
Guarantee of high teaching and service quality
Classmates from all over the world


*Sunday group class is just for begining and elementary level.
Back to Courses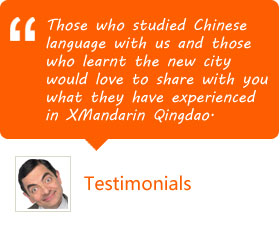 FAQ
Contact us
Shinan Campus: Floor 20th, Building A, Central international (zhonghuan) Plaza, No. 19 zhangzhou Er Lu, (Bank of China's uptairs), Qingdao
P: (86)532-88078385/85890993
EP: 13589278775
Skype:
Call me!
Email:
study@xmandarinchinese.com