[Y]International Schoolmates
At XMandarin your classmates are a great mix, reflecting the diversity of Qingdao's international community. Our Chinese Language Center (CLC) students come from every corner of the world: in the past year about 41% of our students were European, 10% were from North America and 8% from South America, 6% were from Australia & New Zealand, 34% were Asian and the remaining 1% were from Africa.
Where do our students come from? Humans from more than 50 nations have studied here.
我们的学生都来自哪里?超过50国的外国学生在这里学习。

Back to About us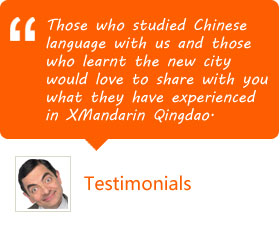 FAQ
Contact us
Shinan Campus: Floor 20th, Building A, Central international (zhonghuan) Plaza, No. 19 zhangzhou Er Lu, (Bank of China's uptairs), Qingdao
P: (86)532-88078385/85890993
EP: 13589278775
Skype:
Call me!
Email:
study@xmandarinchinese.com