Blog
When in China, do as the Chinese do. learn Chinese, speak Chinese, talk to Chinese,live among Chinese: Be a part of it!
---
2016-03-25
Its more than just perfecting your chopsticks technique or struggling to learn Mandarin. Living in China - indeed, living anywhere abroad - changes you, as Matt Prichard reports. I have now lived in China longer than it took to get my bache...[view details]
2016-03-18
Recently, a very simple question became widely circulated online: In today's China, what is worthy of national pride? A foreign girl living in China gave a very touching answer....[view details]
2016-03-10
这是一封细致入微的家书,非常感人,贵为总统的奥巴马给女儿的信亲切、自然、朴实、没有大话、套话,说的全是家常,17条建议都非常具体、每一条都可以做得到,每一条都有益,...[view details]
2016-02-25
Dumplings, indispensable at lunar new year dinners in North China were already served 1,700 years ago in Chinas far west. According to an archaeologist from the Museum of Xinjiang Uygur autonomous region, the three dumplings unearthed in th...[view details]
2016-02-19
Living as an expat in China has many challenges. From the culture shock to drastic changes in diet, we all face many difficulties in our daily lives while trying to embrace life in China. The language barrier seems to be a very significant...[view details]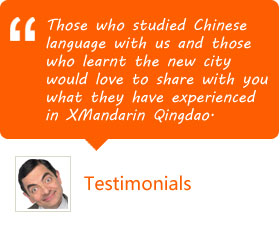 FAQ
Contact us
Shinan Campus: Floor 20th, Building A, Central international (zhonghuan) Plaza, No. 19 zhangzhou Er Lu, (Bank of China's uptairs), Qingdao
P: (86)532-88078385/85890993
EP: 13589278775
Skype:
Call me!
Email:
study@xmandarinchinese.com