HSK Courses
China's Hanyu Shuiping Kaoshi (HSK) is the standardized national test used to determine the fluency of non-native speakers in Chinese and is used by all Chinese universities to assess the enrolment of foreign students and by a number of Chinese companies looking for foreign workers. XMandarin offers you a complete HSK preparation curriculum for all 6 levels. Presented by our qualified, experienced teachers and tailored to your current Chinese level and future HSK goals, we will ensure you attain your highest possible score possible!
XMandarin be rewarded Official HSK On-line Test Center by Han Ban in 2016.



HSK Preparation One to One Course

Program Structure
50 Minutes per lesson
Meet 4-5 times a week
8-15 teaching hours per week either in the morning, afternoon or in the evening
Focus on HSK and test skill
Guarantee of high teaching and service quality

HSK Preparation Small Group Course

Program Structure
Started when 4 persons registered or group reservation
50 Minutes per lesson
4-8 students per class
3 group lessons per day from 9:30-12:30 (13:30-16:30) Monday to Friday
Listening, Writing, Reading, Chinese Grammer
HSK Test arrangement on request - Guarantee of high teaching and service quality
Timetable for 2 hrs/day class: 08:30-10:25 or 10:30-12:25, 13:30-15:25 or 15:30-17:25

HSK Preparation-Test Paper Download
Back to Courses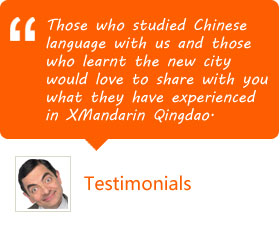 FAQ
Contact us
Shinan Campus: Floor 20th, Building A, Central international (zhonghuan) Plaza, No. 19 zhangzhou Er Lu, (Bank of China's uptairs), Qingdao
P: (86)532-88078385/85890993
EP: 13589278775
Skype:
Call me!
Email:
study@xmandarinchinese.com