XMandarin gives you quali-tea
In modern China, virtually every household owns a set of tea implements to brew a cup of hot tea. Most people drink this beverage on a daily basis. In China tea may be offered for different reasons. Some of this reasons could either be to show respect, as a welcome for guests or as an apology.
We at XMandarin kindly show you a bit of our heritage every month. This month we hand out fresh green tea. In China there is a strong culture of drinking tea. Different seasons bring different tea. In summer people drink green tea, starting this June at XMandarin. Green tea provides a fresh taste and helps you withstand the heat of the summer.
During the entire month of June our front desk will provide visitors asking information about our classes with fresh green tea! Besides obtaining some fresh herbs you can also score yourself a discount when booking a one of our courses.
For more information, please contact us by phone or e-mail.
0532-85890993/88078385
study@xmandarinchinese.com
---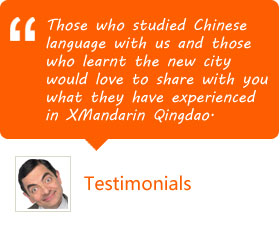 FAQ
Contact us
Shinan Campus: Floor 20th, Building A, Central international (zhonghuan) Plaza, No. 19 zhangzhou Er Lu, (Bank of China's uptairs), Qingdao
P: (86)532-88078385/85890993
EP: 13589278775
Skype:
Call me!
Email:
study@xmandarinchinese.com