Test Yourself
Answer the questions below to discover your approximate level of Mandarin Chinese.
VOCABULARY TEST
Self-assess your level,and then begin!
GRAMMAR TEST
Back to Learn Chinese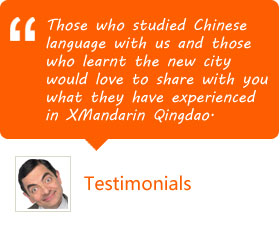 FAQ
Contact us
Shinan Campus: Floor 20th, Building A, Central international (zhonghuan) Plaza, No. 19 zhangzhou Er Lu, (Bank of China's uptairs), Qingdao
P: (86)532-88078385/85890993
EP: 13589278775
Skype:
Call me!
Email:
study@xmandarinchinese.com