Our History
1998

Qingdao New Global School was founded

At the time, we did language training for students to study
overseas in Europe or America.

2006

Our first Mandarin Chinese course began

Our first group of Chinese language students were Korean, the most common foreign nationality here in Qingdao.

2010

"Tianyan Chinese Language Centre" was created

We focused on teaching Mandarin to international students in Qingdao. Especially English speaking students.

2011

School was relocated to No. 19 Zhangzhou Er Lu, Shinan District, Qingdao

We moved to a bigger, better facility to accommodate our growing student base.

2014

"Tianyan" rebranded itself as "XMandarin"

New logo, new concept, new classrooms, same commitment to learning Chinese in Qingdao.
School Motto

The harder you work, the more fortunate you get.

"I am a great believer in luck, and I find that the harder I work, the more
I have of it."
--Thomas Jefferson,3rd US president and Founding Father
Back to About us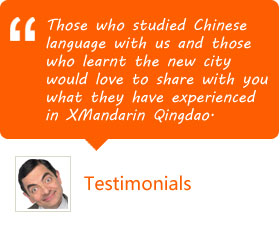 FAQ
Contact us
Shinan Campus: Floor 20th, Building A, Central international (zhonghuan) Plaza, No. 19 zhangzhou Er Lu, (Bank of China's uptairs), Qingdao
P: (86)532-88078385/85890993
EP: 13589278775
Skype:
Call me!
Email:
study@xmandarinchinese.com