Internship in QD
XMANDARIN CHINESE LANGUAGE CENTRE (Qingdao):
Founded in 2006, XMandarin Chinese Language Centre provides a wide variety of courses for international students who are going to learn Mandarin Chinese during their Qingdao (China) residence. XMandarin's services include: Mandarin Chinese Courses (online/offline), Culture Activities, Summer School, Field Trip, Visa, and Local Accommodations. Both personal and company/organization training are warmly welcomed and served.
Internship Description
Internship Position 1: Oversea Market Development
Creating network of education agency abroad;
Building and developing social media of school;
Websites/Wechat/Facebook updating.
Give regular reports and analysis on the marketing development.
Documents translation.

Internship Position 2: Event Planning and Student Service
Design and execute the events according to the school schedule;
Coordinate the logistics and planning process;
Help the international students to adapt the life in Qingdao;
Documents translation;
Support teaching and sales department (quality control, product survey);
Apply for this please contact info@xmandarinchinese.com
Back to Students Life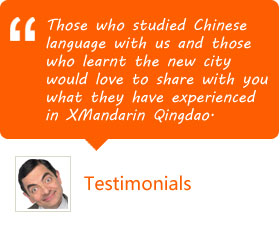 FAQ
Contact us
Shinan Campus: Floor 20th, Building A, Central international (zhonghuan) Plaza, No. 19 zhangzhou Er Lu, (Bank of China's uptairs), Qingdao
P: (86)532-88078385/85890993
EP: 13589278775
Skype:
Call me!
Email:
study@xmandarinchinese.com