May the sport be with you!
May is already here and good weather has come with it. Hence, it is the perfect time to do some sport and Qingdao is the best city for that. Our city has amazing mountains like Fushan or Laoshan which you can climb with your friends and also a wonderful seaside where you can play beach volleyball and football, frisbee or other games!!
But in those warm days it is very important to stay hydrated and XMandarin has the best solution for you! This month, if you come to our front desk to ask information about our courses, we will give you this lightweight and handy sports bottle!
We also want to celebrate the arrival of good weather with another fantastic discount if you book one of our courses. Come to our school and discover more about it. We hope to see you soon!
For more information, please contact us by phone or e-mail.
0532-85890993/88078385
study@xmandarinchinese.com
---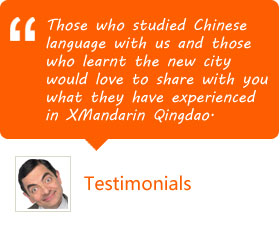 FAQ
Contact us
Shinan Campus: Floor 20th, Building A, Central international (zhonghuan) Plaza, No. 19 zhangzhou Er Lu, (Bank of China's uptairs), Qingdao
P: (86)532-88078385/85890993
EP: 13589278775
Skype:
Call me!
Email:
study@xmandarinchinese.com