Paper cutting activity!
This past Tuesday at XMandarin we held a paper cutting(剪纸 jiǎnzhǐ) activity.
It was so awesome to watch our students make beautiful crafts from only paper(纸 zhǐ) and scissors(剪刀 jiǎndāo).
The teachers only spoke mandarin the whole time, so the students got to practice their mandarin and make crafts at the same time!
上个星期二,我们的剪纸活动,你来了吗?
每一位外国学生,在老师的指导下,
用普通的剪刀和彩纸,
完成了一件又一件艺术品。
At the end of the class, everybody framed their art to take home with them!
All around, it was a great day making crafts, practicing mandarin, but most importantly having fun!
把自己的作品裱在画框里,
拿回家后,可以挂在墙上或者放在桌子上。
你喜欢自己的作品吗?
Hope to see you next time!!
快来跟我们一起练习中文,体验中国传统艺术吧!
下次见!
---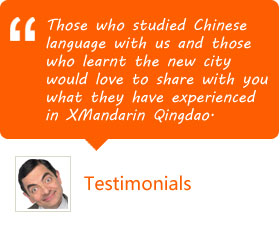 FAQ
Contact us
Shinan Campus: Floor 20th, Building A, Central international (zhonghuan) Plaza, No. 19 zhangzhou Er Lu, (Bank of China's uptairs), Qingdao
P: (86)532-88078385/85890993
EP: 13589278775
Skype:
Call me!
Email:
study@xmandarinchinese.com