Chinese paper-cut classes
22 August // 2pm // XMandarin 16F // 80RMB
Paper-cut is an artistic process and a significant of Chinese culture.
Dating back to the second Century C.E. or earlier, this skill has been passed down through generations as an affordable yet creative art form, commonly used as decoration. Paper-cutting takes images of daily life and translates their knowledge and perception of life onto paper.
Art is represented through figures, animals and other shapes cut into paper, creating images and patterns. The final work produced is beautifully delicate, and takes a steady hand to create the intricate patterns.
XMandarin is holding a Chinese paper-cut class and teaching traditional techniques used in creating artwork. Participants will also learn the meaning behind symbols and figures that are created in the process of paper-cut.
So what's happening?
Date Tuesday 22nd of August
Place XMandarin 16F
Time 2am-4am
Price 80 RMB
If you have questions or want to sign up, please contact Jessy:
WeChat: july0718
TEL: 158-1072-6263
E-Mail: service@xmandarinchinese.com
---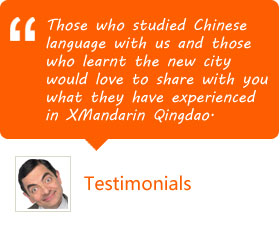 FAQ
Contact us
Shinan Campus: Floor 20th, Building A, Central international (zhonghuan) Plaza, No. 19 zhangzhou Er Lu, (Bank of China's uptairs), Qingdao
P: (86)532-88078385/85890993
EP: 13589278775
Skype:
Call me!
Email:
study@xmandarinchinese.com