Your journey to XMandarin starts with this March!
Every month XMandarin provide our new students with a small gesture, often resembling Chinese heritage. This month: shadow puppetry
Shadows are everywhere. We used the puppets to create our own short story about the classic tale called: "Journey to the west". Make sure you check out our video. And also let us know if you can spot the scene which was completely improvised!
Shadow puppetry has been a part of the Chinese culture for the past two millennia. Chinese history books tell the story, believing the origin of shadow puppetry lies within the brilliant mind of a minister trying to cheer up his emperor after mourning over the loss of his be loving wife.
Since then shadow puppetry has played different parts in the Chinese community. However this art wasn't solely used for amusement. In its earlier stages, more primitive forms were used to represent spirits. Years later around the 1800's the art was used to spread political messages as well. It wasn't too long before shadow puppetry got banned completely in order to prevent peasants from informing each other and riot against the government.
Nowadays shadow puppetry is used as a form of art mostly for amusement. With a nod to our Chinese history we will handout free shadow puppets for the entire month of March.
Swing by our office and ask about our current offers in language courses and receive your own shadow puppet for free. But that's not all; you will also receive a scratching ticket you can use to score a discount on your new language course! This goes as well for our current students who are looking to start a new course.
For more information, please contact us by phone or e-mail.
0532-85890993/88078385
study@xmandarinchinese.com
---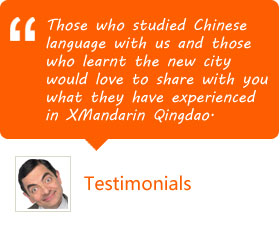 FAQ
Contact us
Shinan Campus: Floor 20th, Building A, Central international (zhonghuan) Plaza, No. 19 zhangzhou Er Lu, (Bank of China's uptairs), Qingdao
P: (86)532-88078385/85890993
EP: 13589278775
Skype:
Call me!
Email:
study@xmandarinchinese.com